Fiiish Mud Digger 90 Maxi Combo - 9cm, 5g/10g/15g
It.№:

Fiiish Mud Digger 90 Maxi Combo - 9cm, 5g/10g/15g
Print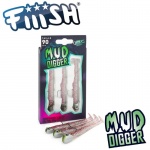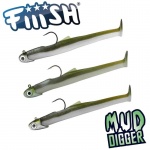 Unavailable
Free shipping
for orders over 150 € maximum weight 2 kg.
Add to Favorites
Your favourite products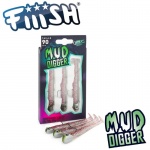 Fiiish Mud Digger 90 Maxi Combo - 9cm, 5g/10g/15g
Add to cart
Information
3 pre-rigged lures
body length 9 cm
body weight 3.8 g
3 jig heads with sizes 5 g, 10 g and 15 g



Fiiish Mudd Digger silicone is a specially designed lure for freshwater fishing. The main goal is to fish for white fish from the shore and from a boat. Each combo contains three ready-made assemblies, with three different weights - 5 grams per head, 10 grams and 15 grams, respectively. This way you have different aggravations for the different situations you may find yourself in.

Thanks to its innovations it is indispensable for whitefish fishing:

stand-up head, which does not allow the silicone to lie on one side of the bottom, and keeps the hook always upright, and this helps to hook the passive fish, which only press with the body;
the heel of the body is turned upwards, which allows free and seductive play when dragging on the bottom;
the vibration of the bait does not come only from the heel, but shakes the whole body longitudinally;
the softness of the silicone is characteristic of the Fiiish brand.