Inline Spinner Panther Martin Originale PMRO
It.№:

PANTHER MARTIN ORIGINALE PMRO
Print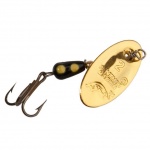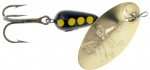 Unavailable
Add to Favorites
Your favourite products

Inline Spinner Panther Martin Originale PMRO
Information
Panther Martin Originale is a lure of excellence which no trout, chub, perch and other predators can ignore.

The blade is mounted directly to the shaft and there is no swivel used which allows the blade imminent spinning action as soon as it touches the water surface.
The weighted teardrop shape allows long and accurate casting to the strike zone. Extremely sharp and strong VMC treble hooks increase your hook up ratio.
The specific vibration created by the Panther Martin unique blade shape vibration is a fish attractant.