Lucky Craft Flash Minnow Slim Sea Finger
It.№:

Flash Minnow Slim Sea Finger
Print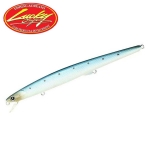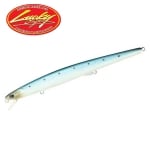 Unavailable
Free shipping
for orders over 150 € maximum weight 2 kg.
Add to Favorites
Your favourite products

Lucky Craft Flash Minnow Slim Sea Finger
Add to cart
Information
Lucky Craft Flash Minnow Slim ~ Sea Finger is the ultimate hard bait for saltwater fishing. It is a long slender lure. With its slim profile imitates the sand eel or garfish/sea needle which is the main forage for all Atlantic and Mediterranean predators. The Sea Finger will work great with stop and go technique as well as with aggressive jerks.
Flash Minnow Slim is available in sizes from 113 mm to 193 mm all models are integrated with weight transfer system to let you cast it like a bullet. It is crafted with precision, high level of details and holographic finish which adds life to its subsurface action at all light conditions.    
To achieve its best just cast it, twitch it firmly few times, let I float for few seconds and repeat.
slim profile and sizes to match all stages of bait fish growth;
 
three razor sharp trebles to guarantee the hookup;
 
built in weight transfer system for super long casts;
 
highly detailed holographic finish and shimmering effects.
| | | | | | |
| --- | --- | --- | --- | --- | --- |
| Lucky Craft | Lenght (сm) | Depth (m) | Weigh (g) | Type | Hooks |
| Flash M Slim Sea Finger 113 | 11.30 | 0.3 - 0.6 | 6.80 | floating | 3 x #4 |
| Flash M Slim Sea Finger 133 | 13.30 | 0.3 - 0.6 | 11.00 | floating | 2x#6;1x#4 |
| Flash M Slim Sea Finger 153 | 15.30 | 0.3 - 0.6 | 15.00 | floating | 3 x #4 |
| Flash M Slim Sea Finger 173 | 17.30 | 0.6 - 0.9 | 20.00 | floating | 3 x #2 |
| Flash M Slim Sea Finger 193 | 19.30 | 0.6 - 0.9 | 26.00 | floating | 2x#2;1x#1 |