Tailwalk Dageki
It.№:

Tailwalk Dageki
Print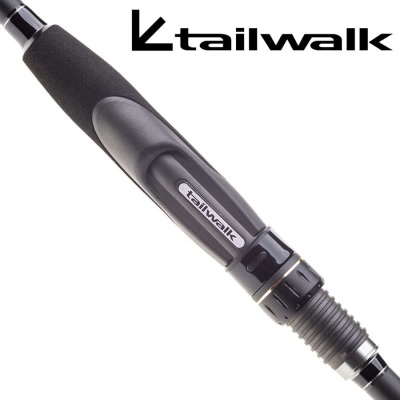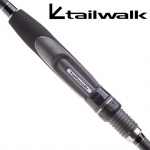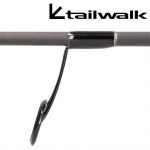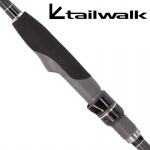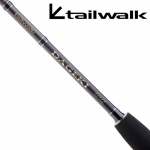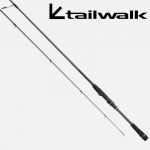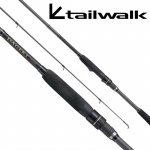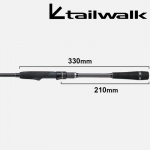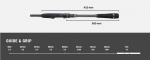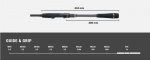 Unavailable
Free shipping
for orders over 150 € maximum weight 2 kg.
Discount period from
30.11.-0001
to
30.11.-0001
Add to Favorites
Your favourite products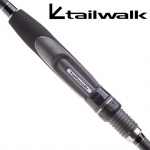 Versions
Information
One of the well known rod series on our market is Tailwalk Dageki - these are specialized rods created for the needs of the European customer for fishing for pike and zander. The brand also offers an amazing light spinning rod model, which is a great start for anyone looking for a universal fishing rod for light spin fishing, it is not only good for begginers but advanced anglers will also feel the power of this incredible rod.

Rod Tailwalk Dageki S672L
Lenght: 

2.00 m / 6'7''

Sections: 2

Transport lenght: 103 cm

Weight: 95 g

Lure weight: 

1.8 g - 7 g
Line test: 

4 lb

 - 10 lb

Guides: 8 Fuji K Series with Alconite centre
Reel seat: Fuji VSS 16
Rod Tailwalk Dageki S672M
Lenght: 

2.00 m / 6'7''

Sections: 2

Transport lenght: 103 cm

Weight: 115 g

Lure weight: 

3.5 g - 24 g
Line test: 8

 lb

 - 16 lb

Guides: 8 Fuji K Series with Alconite centre
Reel seat: Fuji VSS 16
Rod Tailwalk Dageki S672MH
Lenght: 

2.00 m / 6'7''

Sections: 2

Transport lenght: 103 cm

Weight: 125 g

Lure weight: 

3.5 g - 28 g
Line test: 8

 lb

 - 20 lb

Guides: 8 Fuji K Series with Alconite centre
Reel seat: Fuji VSS 16
Rod Tailwalk Dageki S722M
Lenght: 

2.20 m / 7'2''

Sections: 2

Transport lenght: 113 cm

Weight: 120 g

Lure weight: 

3.5 g - 24 g
Line test: 8

 lb

 - 16 lb

Guides: 8 Fuji K Series with Alconite centre
Reel seat: Fuji VSS 16
Rod Tailwalk Dageki S762L
Lenght: 

2.29 m / 7'6''

Sections: 2

Transport lenght: 118 cm

Weight: 110 g

Lure weight: 

1.8 g - 11 g
Line test: 4

 lb

 - 10 lb

Guides: 8 Fuji K Series with Alconite centre
Reel seat: Fuji VSS 16
Rod Tailwalk Dageki S762ML
Lenght: 

2.29 m / 7'6''

Sections: 2

Transport lenght: 118 cm

Weight: 115 g

Lure weight: 

2.5 g - 18 g
Line test: 6

 lb

 - 14 lb

Guides: 8 Fuji K Series with Alconite centre
Reel seat: Fuji VSS 16
Rod Tailwalk Dageki S802M
Lenght: 

2.40 m / 8'

Sections: 2

Transport lenght: 125 cm

Weight: 145 g

Lure weight: 

3.5 g - 24 g
Line test: 8

 lb

 - 16 lb

Guides: 9 Fuji K Series with Alconite centre
Reel seat: Fuji VSS 16
Rod Tailwalk Dageki S802MH
Lenght: 

2.40 m / 8'

Sections: 2

Transport lenght: 125 cm

Weight: 160 g

Lure weight: 

5 g - 35 g
Line test: 8

 lb

 - 22 lb

Guides: 9 Fuji K Series with Alconite centre
Reel seat: Fuji VSS 16
Rod Tailwalk Dageki S862MH
Lenght: 

2.59 m / 8'6''

Sections: 2

Transport lenght: 134 cm

Weight: 164 g

Lure weight: 

5 g - 40 g
Line test: 10

 lb

 - 25 lb

Guides: 9 Fuji K Series with Alconite centre
Reel seat: Fuji VSS 16
Rod Tailwalk Dageki S902MH
Lenght: 

2.74 m / 9'

Sections: 2

Transport lenght: 140 cm

Weight: 172 g

Lure weight: 

5 g - 45 g
Line test: 12

 lb

 - 30 lb

Guides: 10 Fuji K Series with Alconite centre
Reel seat: Fuji VSS 16
Versions
Product
Length (cm)
Sections
Transport Length (cm)
Rod Weight (g)
Lure Weight (g)
Tip
Targeted fish
Price
Availability
Discount period from
30.11.-0001
to
30.11.-0001
Discount period from
30.11.-0001
to
30.11.-0001
Discount period from
30.11.-0001
to
30.11.-0001
Discount period from
30.11.-0001
to
30.11.-0001