Tailwalk Manbika Ver. 2
It.№:

Въдица Tailwalk Manbika Ver. 2
Print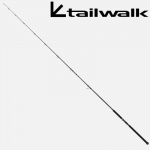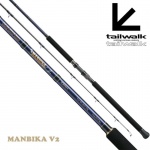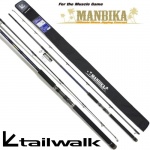 Unavailable
Free shipping
for orders over 150 € maximum weight 2 kg.
Discount period from
30.11.-0001
to
30.11.-0001
Add to Favorites
Your favourite products

Versions
Information
The rods from the Manbika series are changed to Manbika Ver.2 with higher durability.
The rod is designed to ensure ease of operation and maximum efficiency during fishing.
Rod Tailwalk Manbika Ver. 2 100XH
Lenght: 3

.05 m / 10'

Sections: 2

Transport lenght: 155  cm

Weight: 365 g

Lure weight: max 100

 g

Drag: max 8 kg

Guides: Fuji SiC KW - top: MNST 10 ~ butt: KWSG 30
Reel seat: Fuji DPS18
Rod Tailwalk Manbika Ver. 2 100XXH
Lenght: 3

.05 m / 10'

Sections: 2

Transport lenght: 155  cm

Weight: 425 g

Lure weight: max 140

 g
Line test: 

max 8 PE

Drag: max 13 kg

Guides: Fuji SiC MN - top: MNST 16 ~ butt: MNSG 40
Reel seat: Fuji DPS20
Versions
Product
Length (cm)
Sections
Transport Length (cm)
Rod Weight (g)
Lure Weight (g)
Price
Availability
Discount period from
30.11.-0001
to
30.11.-0001